Back in October, we ran a 4-part tribute to one of the most beloved PPV's of all-time – Halloween Havoc.  If you haven't seen those yet, make sure to check them out in the archives here.
This Sunday marks the 14th WWE Backlash PPV.  Backlash started way back in April of 1999, marking the final PPV in the "In Your House" series.  From then until 2009, Backlash was a staple of WWE's post-Wrestlemania calendar.  Often times, Backlash would straight deliver Wrestlemania rematches, which made it the unofficial annual sequel to the biggest show of the year.
No less an authority than Mick Foley said in his first book that Backlash was actually his favorite annual PPV, because it often featured Wrestlemania-worthy matches, but in a looser and more fun atmosphere.
Backlash returned as the first PPV under the latest brand split in September 2016.  In 2017, it reclaimed it's spot as the "Wrestlemania Fallout" PPV.  It makes you wonder if, even subliminally, WWE and the WWE Universe knew there was a little bit of magic in Backlash.
Backlash '18 will be the first co-branded, non-Big 4 PPV of the latest brand split, meaning it will feature matches from both Raw and Smackdown Live, like Wrestlemania or SummerSlam.
With Backlash '18 coming at us full force, let's take a look back at the best 4 matches in Backlash history.  I call it The Best Of Backlash.
WWF Backlash: In Your House
WWF Title No Holds Barred Match
Stone Cold Steve Austin (c) vs. The Rock
Special Guest Referee: Shane McMahon
I'm gonna spoil this match for you right now – it's awesome. Go watch it. Just screw reading this (I mean, come back later), but this match is too fun to pass up.
At Wrestlemania XV, Stone Cold Steve Austin reclaimed the WWF Title from the villainous "People's Champion", The Rock.  The next night on Raw, Stone Cold demanded Mr. McMahon return his own personal WWF championship title, which featured a smoking skull, barbed wire, snakes and a snake skin strap.  It's pretty much the coolest belt that ever existed.
McMahon had taken the Smoking Skull belt from Austin after Austin lost the WWF Title at Breakdown: In Your House months earlier.  The Rattlesnake reckoned that, now that he was champion again, AND since the belt was his own personal property, McMahon should give it back.
Mr. McMahon, the owner of the WWF and the leader of the evil Corporation faction, had his own BS to deal with at the time.  The Undertaker's Ministry of Darkness was hell bent on destroying the McMahon family and taking over the World Wrestling Federation.  With all of this going down, Vince didn't feel that a novelty championship belt was his top priority, so he ordered the belt be returned to Austin as requested.
Unfortunately, Vince's son Shane McMahon didn't see it that way, and used this perceived lack in judgment to oust his father from The Corporation's leadership and take over.  His first order of business – give the Smoking Skull belt to The Corporation's "crown jewel" The Rock.
Of course, The Rock – butt hurt over losing the title at Mania – was quick to shove his possession of the belt in Stone Cold's face, which led to a reignited war between the two. (One casualty was the Titan Tron, which Austin and Big Show destroyed in a fit of rage.) This all culminated on Raw when The Rock and Austin battled on a bridge.  In the end, Rock seemingly dropped Austin to his death into the Detroit River, tossing Stone Cold's precious belt in with him.
The next week on Raw, The Rock held a funeral for Austin and revealed that he still had possession of the Smoking Skull belt (which looked super classy on The Rock, who was wearing the belt, a sports jacket and no shirt).  The funeral was elaborate, with two coffins, a hearse, a huge mound of dirt and an open grave.
One day I hope to interrupt my own funeral by crashing through in a monster truck bearing my name.  It's not unprecedented, because that's what Stone Cold did.  After destroying The Rock's car, Austin burst through the stage and rolled up on the parked hearse, before coming out to drink beer and waylay on the Brahma Bull.  Unfortunately, Shane McMahon popped up and beat Austin down with a shovel, knocking him in the open grave.
Somewhere in all of this, a rematch between Austin and Rock for the WWF Title was announced for Backlash, and Shane McMahon would serve as the guest referee.  This was apropos, as the WMXV match was supposed to feature a special referee, but shenanigans ensued and kept that from happening.
The odds seemed stacked against Austin.  Shane announced on Sunday Night Heat before the PPV that the WWF Title match would be No Holds Barred. Shane also swore on his grandfather's name that he would be a fair and impartial referee, so yeah.  And finally, if Austin laid a hand on Shane, he'd ne automatically disqualified and lose the title to The Rock.  DQ'd in a No DQ Match. It's the Attitude Era people!
The match started out hot. The Rock is out first, wearing the stolen Smoking Skull belt.  Austin, the true champ, is out next, and he wastes no time, sprinting to the ring and laying in soup bones.  Shane tries to interject, but Austin lays into The Rock even harder.
The fight spills out of the ring and Rock and Austin brawl on the entrance way.  Austin throws Rocky into a bunch of metal fencing and poles. Someone tell the ring crew they're tearing the set down early.  Austin hits Rock with an elbow on the fencing then gives everyone the double middle fingers for good measure.
Austin hits a nasty suplex onto the floor right in front of the crowd.  The cameras become weapons now, as Stone Cold and Rock trade brawling offense. Austin keeps smashing Rock with a road case, which Jim Ross keeps referring to as an "anvil case".  Rock sells it likes he's literally been hit with an anvil.
All of this set destruction and choking with camera cables does make me miss the old days.  There was a lot more stuff to play with around the ring. Now we just have the stairs.  Which Stone Cold also threw Rock into.
We head back to the ring and Austin is just beating the piss out of The Rock. Shane intercedes once again and it looks like Stone Cold may take him out, thus getting himself DQ'd.  Cooler heads prevail and Steve tosses Rocky outside.  The Spanish Announce Table gets some action, but it all goes bad for Austin when the Rock hits a Rock Bottom, collapsing the table. Dios Mio!
Rock puts on one of the announcer headsets and starts talking trash to Austin on commentary WHILE he stomps him.  This is why he's The Rock.  The fight spills over the barrier and the crowd is on fire.  We return to ringside and Rock tosses Stone Cold on the remaining announce table.  Rock then grabs a camera and begins filming himself talking smack and flipping off a prone Austin.  In a scene liken to a horror movie, Austin pops up with his own double birds and hits the camera-wielding Rocky with a Stunner on the table. The table cracks but doesn't break, which always makes me say ouch.
Austin tosses Rock back in the ring. We set up for another Stunner, but Rock pushes Austin into Shane. Technically, this should be a DQ, but as Shane gets up, Rocky hits the Rock Bottom on Austin.  He's too exhausted to cover, so Shane drapes Rock's arm over Stone Cold for the 1-2-NO! HE KICKS OUT!
Shane's had enough and goes for the Smoking Skull belt.  He goes to hit Austin, but misses and gets Rock instead. Austin goes for the cover as Shane stands there stunned. 1-2-DOUBLE MIDDLE FINGERS! SHANE WILL NOT COUNT TO 3!
The younger McMahon runs away, but Mr. McMahon makes a surprising entrance with his own ref.  Vince takes out Shane with the Smoking Skull belt. Vince then tosses the belt in the ring. Rocky, however is up with the real WWF Title belt.  Stone Cold counters and hits the Stunner, then smashes him with the belt for good measure.  Mr. McMahon's ref counts 3 and Stone Cold retains the title.
RATING: 5 Middle Fingers.
TOTAL BACKLASH: This match was full of backlash. Rock felt backlash for messing with Austin's personal property, Shane felt backlash for thinking he had a bigger set than his old man. The Smoking Skull belt was avenged. Mr. McMahon perhaps felt the most Backlash, as Undertaker kidnapped his daughter Stephanie while Vince was out returning belts. D'oh!
RAW

 presents

WWE

Backlash

2004
Intercontinental Title No Holds Barred, Falls Count Anywhere Match
Randy Orton (c) vs. Mick Foley
There were two amazing matches at Backlash '04.  One was a rematch of the Wrestlemania XX Triple Threat Match, which was one of my favorite Mania matches of all time.  However, the other is one of my all-time favorite matches period – a young Randy Orton vs the legendary Mick Foley.
Orton and Foley had been feuding since 2003.  At 23 years old, Orton was still early on in his career, but WWE was clearly ready to push him to the top.  Orton was working his Legend Killer gimmick and a member of the game-changing Evolution stable.
Mick Foley famously retired in 2000, but returned in 2003 to act as Co-General Manager of Raw.  In storyline, Foley walked out at the end of 2003 after refusing to face Orton for the Intercontinental Title.  When confronting Mick backstage, Orton spit in his face.
Foley returned at the Royal Rumble, reigniting the feud with Orton and Evolution.  At WMXX, Foley would bring back The Rock to reform The Rock 'n' Sock Connection.  The pair took on Evolution in a fun 2-on-3 Handicap Match, where Orton pinned Foley.
As Backlash approached, Mick appeared in a video on Raw, challenging Randy Orton to a hardcore match for the IC Title.  It's one of the best promos he ever cut in the WWE, and I'd strongly suggest checking it out below (don't worry, it's not actually 13 minutes long).
The gist is that Mick talks about his history as a hardcore legend, and how hardcore wasn't about the weapons or blood, but about showing your love for the business and fans.  But Mick says, when he looks back, maybe he really did love all the pain and screams and blood.  Foley warns Orton that the competitors he faced then were honorable men, who had never spit in his face, and he didn't hesitate to wrap barbed wire around his arms and tear their flesh.  So what will Mick Foley – nay – Cactus Jack do to Randy Orton at Backlash?
Orton did a good job of playing up his fear heading into the match, especially since the rest of Evolution was barred from ringside.  On to the match!
Randy Orton is out first, with a trash can full of PLUNDAH, BEH BEH! Orton leaves his Evolution shirt on, which signifies some sharp stuff is about to go down.  Orton enters the ring and pulls out a 2×4 wrapped with a string of barbed wire, raising it and the IC title to the crowd.
Foley is out next, dressed in WCW Cactus Jack gear.  Foley looks to be in really good shape here, too. It's easy to forget how great this guy was, even what can only be called a few years after his prime.  Foley is out with his own barbed wire-wrapped baseball bat ("Barbie"), which makes Orton's puny 2×4 look pathetic.  Great little moment when the strand of barbed wire just falls off of Orton's stick.
The bell rings and Orton literally starts running from Cactus Jack and Barbie.  This all ends with Foley getting planted into the steel stairs.  Mick is undeterred and eventually hits the signature Cactus elbow off the apron.  The pair brawl into the ring, where Orton dumps out his trash can and uses it as a weapon. The plan doesn't work so well and they bail outside.
The two end up brawling up the metal ramp, and Orton tosses Foley back headfirst on the ramp with a sickening thud. They brawl back down the ramp and Orton does it again. These looked NASTY.  Orton rolls Foley back into the ring and goes for Barbie, but Mick hits the ol' Nakamura special.
Orton sells the nutshot and Mick pulls Mr. Socko out of his pants.  He takes a minute to reconsider…then tosses Socko in favor of Barbie.  Cactus Jack BRUTALIZES Randy Orton with the barbed wire bat.  Orton's shirt is off at this point, by the way.  It doesn't matter though, since Mick is raking Orton's face with the bat like a cheese grater.
Orton's testicular area is again targeted, this time with Barbie and a legdrop. Ouch. Foley rolls out of the ring and grabs a GAS CAN.  He douses Barbie with the gas and pulls a lighter out of his pants.  Mick, you really should just get a fanny pack.
Raw GM Eric Bischoff is out and tells Mick that if he lights that bat, the match will be thrown out and the fire marshal will shut the entire event down.  Mick relents and grabs a cookie sheet instead.  Well that's a let down.
Nevermind – huge plywood board covered in barbed wire is out.  Probably the first time this gimmick has ever been seen in a WWE ring. It should be noted that Mick Foley is CLEARLY loving his job right now, smiling and playing to the crowd. It's so joyful and so odd considering the bloody state of Randy Orton.
Cactus goes to get Orton, but Randy hits him with the ol' powder to the face.  MR. FUJI, THIS ONE'S FOR YOU! Foley looks completely insane now, covered in white powder.  Randy picks up Mick and bodyslams him on the barbed wire bed.  Cover, 1-2-but Cactus Jack kicks out! Cactus Jack SLEEPS ON A BARBED WIRE BED, YOU MORON!
Randy sets up the board in the corner and tries to irish whip Foley into it from the opposite side.  Foley is able to fight off two attempts, but the third one gets him. He reverses, however, only have Orton reverse his reversal.  Long story short, Mick goes face first into the barbed wire board. And that sucks for him.
It sucks real bad, actually, as Orton gets into a box and pulls out a bag of thumbtacks.  He pours them in the middle of the ring, probably thousands of thumbstacks.  Randy stands Mick up and goes for the RKO onto the thumbtacks, but Mick blocks it and sends Orton BACK FIRST into the tacks by himself.  The look on Orton's face is priceless.
Dozens and dozens of tacks are stuck in the Legend Killer's back and arms. Even his elbows and hands. Foley goes for a ginger cover, but Orton kicks out and bails for the back, pulling thumbtacks out along the way.  Foley follows suit and the two disappear for a moment.  I can only assume this was time spent pulling tacks out of Randy.
When they reappear, the two brawl at the entrance.  Cactus tosses Orton off of the stage and onto a wooden platform, which collapses.  This brings out the EMTs and officials.  Let it be known there were still plenty of tacks in Orton's back, so I'm sure this fall hurt like a mother.
The refs try to hold Foley back, but he pushes them off and hits the running Cactus Elbow off of the stage. MY GOD! THIS MAN HAS A FAMILY!!!  Foley goes for pin. 1-2-ORTON KICKS OUT! RANDY ORTON SLEEPS ON A…well, he probably sleeps in a very comfortable bed.
The two brawl back to the ring and Cactus Jack hits his Double Arm DDT finisher.  That only gets 2 and Orton somehow gains control of Barbie.  Foley gives her a big smooch, but Orton eats the Socko-covered Mandible Claw.  Randy hits a low blow to get out, but Mick locks it in again. RKO OUT OF NOWHERE! (I didn't know they were coming out of nowhere back in 2003, but that was JR's call)  1-2-FOLEY KICKS OUT!  Both men are a bloody mess.  Foley's arm looks particularly disgusting from all of the barbed wire.
Randy sets up Barbie to hit an RKO on the bat.  Foley eats it and Randy covers. That's all she wrote folks.  The champion retains. The crowd is cheering for the performance as Ric Flair and Batista come down to retrieve Orton, who is either selling great or just flat out in tremendous pain.  Great moment with Flair smack talking the camera, holding up the IC Title.
RATING: 5 Gallons of Blood
TOTAL BACKLASH: A ton of backlash in this match, as Orton paid for his sins 10 times over. You don't punt Mick Foley's head and spit in his face and walk away without losing some plasma. It could be argued that this single match made Orton a next level star. He'd be World Heavyweight Champion by SummerSlam (the youngest ever).  Mick Foley would call this his favorite match of his career.
WWE Backlash 2007
WWE Title Fatal Fourway Match
John Cena (c) vs. Shawn Michaels vs. Randy Orton vs. Edge
This one goes way back to 2006, when Triple H and Shawn Michaels reunited as DX.  DX's first target was Edge, who evened the playing field by forming team Rated-RKO with Randy Orton.  Orton had beef with Triple H dating back to being kicked out of Evolution in 2004, so the feud carried a lot of history from the get go.
Unfortunately, Triple H was injured before DX and Rated-RKO got to blow off the feud, so Edge and Orton continued their program with Shawn alone.  Shawn just missed winning the 2007 Royal Rumble match, getting tossed out last by The Undertaker.  Taker would go on to face Batista for the World Heavyweight Title at Wrestlemania 23, leaving the WWE Title without a #1 contender.
The night after the Rumble, Shawn teamed with WWE Champion John Cena to defeat Rated-RKO and capture their World Tag Team Titles.  Not long after, Edge and Orton would face Shawn Michaels in a Triple Threat Match on Raw to determine who would in turn face Cena for the WWE Title at WM23.  Michaels walked out victorious, but the burning desire to capture the WWE Title would strain the relationship of Rated-RKO.
At WM23, HBK would come up short in his bid to wrestle the WWE Title off of Cena.  Meanwhile, both Orton and Edge were entered into the Mania Money In The Bank Ladder Match, further fracturing their partnership.
The week after WM23, Orton and Michaels would face off to determine the WWE Title #1 contender at Backlash.  That match ended in a classic double-pinfall no contest.  Edge then announced that, since both RKO and HBK had lost, Jonathan Coachman (acting as the Executive Assistant to Mr. McMahon) named Edge the #1 contender for the WWE Title.
However, Honorary Raw GM Michael Pena – a 9-year old Make-A-Wish kid – overturned Coachman and announced it would be Edge, Orton and Shawn vs. Cena in a Fatal Fourway Match at Backlash.
The week before Backlash, on Raw, Orton and Edge were supposed to go head to head, as well as Cena and Shawn in a non-title match.  The Cena/HBK match turned out to be an hour-long epic, though, and Orton/Edge was pushed off the show. (Seriously, seek out this match if you've never seen it – easily the best of Cena's career.) HBK scored the victory, giving him momentum heading into the PPV.
I have to admit, I did not remember this match when I started working on this column.  But Dave Meltzer gave it four and a half stars, so I figured it must have been good, especially considering who was involved.  The four get their ring entrances and just stand staring at each other after the bell.  We play a good game of "who's going to team with who?", with Cena and HBK looking to collude.  Orton and Edge enter the conversation and tempt their respective faces to team with them and clear the field.  Cena and HBK decide to dump the Rated-RKO boys and then Michaels lights Cena up with a chop.  The two trade moves, but Orton and Edge slip back in and dump the faces.
The crowd is very into this match, but I have to admit, for the first half, it's your standard "throw two guys out so the other two can fight in the ring" fatal fourway.  There's a nice little moonsault from HBK onto all three men outside the ring, but what's all the hub-bub?  Well, we're about to find out.
About 10 minutes in, Cena misses a spear and eats the ringpost, falling outside the ring.  That leaves Orton and Edge standing, who decide to reunite temporarily and put the beatdown on a lonely Shawn Michaels.  The two lock in a double Boston Crab on HBK, each grabbing a leg.  May be the first time I've seen that spot.
Shawn writhes in agony, but Cena comes in and starts hitting his signature spots on the heels. Shoulderblocks, throwbacks, even a proto-bomb.  Cena hits the 5 Knuckle Shuffle on Edge, but then Orton and HBK pull him out of the ring and he eats the ringpost again. THE RINGPOST IS HIS KRYPTONITE!
Orton eats ringpost too, then Shawn sets him up for a piledriver on the announce table.  If you're wondering when the last time you saw a piledriver was, don't wonder – Edge breaks it up with a nasty chairshot to HBK's back.  Orton gives his teammate a thumbs up but gets a face full of chair, too. HAHA!
Sensing victory, Edge takes his chair to the ring to introduce his friend to Cena. Cena is not up for meeting new people, and he locks on the STFU.  Edge looks like he may tap, but finally makes the ropes.  This draws Orton in, who promptly gets an STFU for his troubles.  Orton goes for the ropes, but HBK breaks up the hold.  Cena tries to hit a hat trick and lock Michaels in the STFU, but Shawn rolls him up. 1-2-NO! That looked close.
Shawn starts laying on his greatest hits. Flying forearm to Cena and then a kip-up.  Inverted atomic drop to Cena.  Inverted atomic drop to Orton.  Inverted atomic drop to Edge.  Inverted atomic drop to yo mama, scro!
Shawn slams Cena and heads up for the elbow drop. He's tuning up the band, but Edge interrupts with a Spear attempt! Shawn sidesteps and slams Edge.  Elbow drop for Mr. Copeland.  Randy Orton says that looks fun and tries to take the exact same ride.  Cena catches HBK going for his third elbow drop and instead hoists him up for a Super FU.  Edge and RKO aren't going to sit idly by and watch this, so they grab Cena for the big Tower of Doom spot.  Pretty cool seeing that with something other than a suplex.
With everyone dead, Edge is ready to pick the bones. He goes for the Edge-o-Cution, but Cena reverses into an FU.  Edge is too crafty though and hits the Edge-o-Matic instead. REVERSED INTO AN FU! FOR REAL THIS TIME! NOPE! HBK is in, so John Cena says, I'll just pick you up, too.  CENA IS THE STRONGEST THERE IS!  Cena can't keep Shawn up, so Shawn sets up for a little Sweet Chin Music. RKO OUTTA NOWHERE!!!
Orton goes to pin HBK, so Cena drops Edge and breaks up the pinfall.  He turns around into the Edge-O-Cutioner. Edge covers! 1-2-NEW CHAMPION! NO! Cena's up and Edge goes for a spear, but Cena LEAPFROGS. Edge tosses his buddy Orton into Cena for an FU, but Orton fights out. SPEAR TO ORTON! RATED-RKO EXPLODES!
Edge turns around and FINALLY finds himself the victim of the FU.  When John Cena decides to FU a man, HE WILL BE FU'D!  It looks like Cena has it but SWEET CHIN MUSIC! CENA IS DEAD! HBK collapses from the effort and John falls onto Orton.  1-2-3! Cena retains! Cena is glassy eyed and Shawn is PISSED!
RATING: 4 Legends
TOTAL BACKLASH: It's hard to say much backlash was doled out here.  Cena and Shawn were tied 1-1 in singles matches, and this didn't exactly determine a winner.  The two went on to face off the next night on Raw, but the match was broken up by The Great Khali of all people. Khali took out Cena and HBK. He took our Orton. He took out Edge. He even took the last can of Who Hash.  Cena would be left to deal with the Punjabi Playboy on his own as HBK and Orton continued their own feud.  Edge was traded to SmackDown shortly after, effectively ending Team Rated-RKO with more of a whimper than a bang.
SmackDown Live

presents

WWE

Backlash

2016
WWE World Title Match
Dean Ambrose (c) vs. AJ Styles
Backlash '16 marked the return of the PPV after a 7 year absence.  It would also be the first (and so far only) Backlash to not immediately follow-up Wrestlemania.  It wasn't a placeholder PPV, though.
WWE re-introduced the brand split in July of 2016, just a month before SummerSlam.  WWE World Champion Dean Ambrose was drafted to SmackDown Live, making that title exclusive to the blue brand. Ambrose had won the belt at Money In The Bank, where he won the MITB briefcase, cashed it in and defeated new champion Seth Rollins all in the same night.  Ambrose successfully defended the title in a Triple Threat Match with Rollins and his other former Shield brother Roman Reigns (both drafted to Raw), keeping the WWE World Title on SmackDown Live.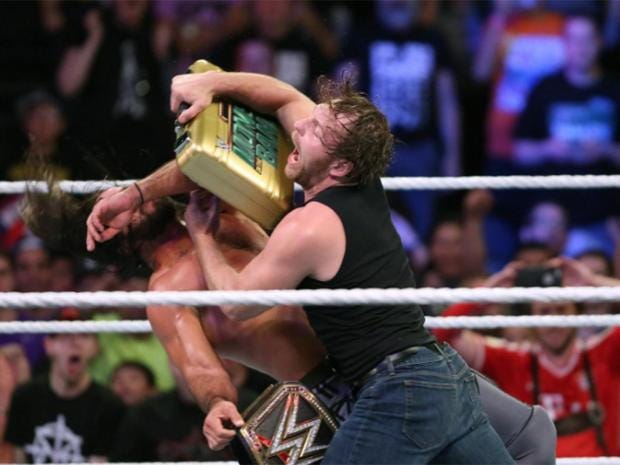 Dolph Ziggler would go on to win a #1 Contender 6-Pack Challenge on SmackDown Live by pinning AJ Styles.  The win earned Ziggler a match against Ambrose at SummerSlam, but Dolph failed to walk away with the belt.
AJ Styles would come out the true winner of SummerSlam, however, when he vanquished WWE franchise player (and SmackDown Live draftee) John Cena.  It was Styles' second big win over Cena after defeating John at the MITB PPV.  Styles appeared on SDLive the night after SummerSlam, claiming that he was the new "face that runs the place".  Styles demanded that he be given a trophy for his big win – in the form of a shot at the WWE World Title.
Champ Ambrose took issue with Styles' claim to the throne of SDLive, seeing as how he was the champ and all.  And so SDLive Commissioner Shane McMahon booked Ambrose vs. Styles for the main event of SDLive's first PPV, Backlash.
Backlash '16 was presented as somewhat of a launching pad for SmackDown Live as a brand.  Sure, there had been a brand split years ago, but this time SmackDown was, well, live.
The match kicks off with AJ outwrestling Dean.  The champ is looking totally outclassed as Styles starts jawing at him. "I can do this all night." It's good stuff.  Ambrose finally makes a comeback and tosses Styles outside.  A suicide dive misses and AJ starts working Amrose's neck.  This match is full of psychology. AJ is still running his mouth.
Things go back and forth, with Ambrose heating up only to find AJ shutting him down time and again. A weird top rope counter occurs as Dean picks up AJ for a belly-to-back suplex and Styles flips all the way over on to his face while Ambrose falls back on the mat.  It looks like Dean gets the worst of it though.  Some good spots follow, including the Lunatic Fringe's running apron elbow and a sweet wheelbarrow facebuster by Styles.
The match really hits its stride when AJ sets up for the Phenomenal Forearm, but Dean counters into a teased Dirty Deeds.  Dean ends up chest first in the turnbuckles and AJ just DESTROYS the champ's knee by driving his own knee down on it to the mat.  Ambrose sells it like a champ and now Styles is ready to pick him apart.  Knees and stomps to the back of Dean's bad knee ensue.  Styles goes for some kind of submission, but Ambrose fights out by just smashing the back of his knee into AJ's head until he relents.  Dean fighting like a wounded animal.
AJ continues to work the champ's knee, working towards the Calf Crusher.  He teases locking it in.  This time, Ambrose grabs AJ's head and bashes it into the canvas until Styles lets go.  Incredible, showing how viscerally Ambrose is willing to fight, plus the finality of the Calf Crusher.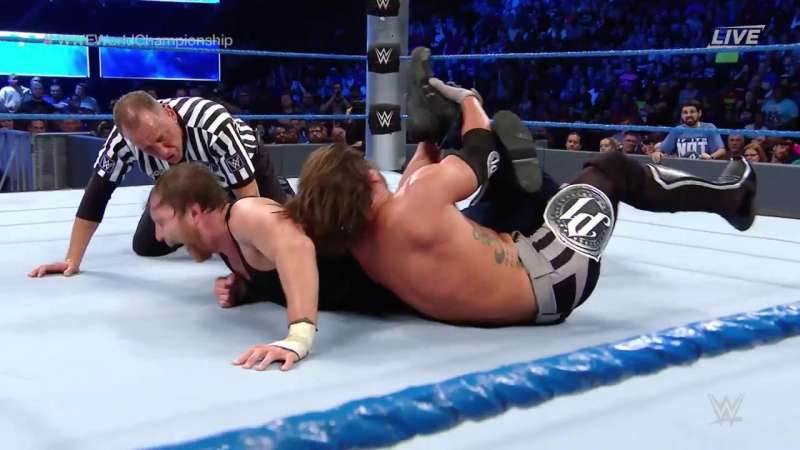 Styles changes it up and starts teasing the Styles Clash.  Dean fights out and they wind up on the apron, where AJ looks for it again.  Dean reverses it into a catapult, posting AJ, who falls to the floor.  Interesting spot that draws a "Holy S***" chant from the crowd.
Dean takes the battle back inside the ropes, hitting his signature offense, but the knee is hurting.  AJ takes control with a ushigoroshi, but that only gets 2.  Powerbomb on Ambrose, but that gets 2 as well.  AJ hops onto the apron for a massive springboard 450 splash. 1-2-NO! Ambrose will not stop fighting.
The Champ makes a comeback, and that knee seems to be feeling better.  Another suicide dive attempt connects, sending AJ onto the announce table.  Dean dumps him over the barrier and then does his crazy "running across the announce tables dive into the crowd" move. The action goes back to the ring and AJ hits the pele kick, but Dean fires back with his lunatic lariat. SHADES OF…wait, who did that? NIGEL MCGUINNESS?
AJ pushes Dean into the ref, knocking the official down JUST long enough for Styles to hit a low blow. DOES THIS MAN HAVE NO SHAME?? Ambrose goes down and AJ picks him up for the Styles Clash, just as the ref revives.  1-2-3! AJ Styles wins his first WWE Title and becomes the first man to hold the top belts in WWE, TNA and NJPW.
RATING: Really good.
BACKLASH TOTAL: Not much backlash here, as Ambrose/Styles was a fresh feud and this was their first encounter.  The match would go a long way in establishing AJ as the true face of SmackDown Live, as well as allow Dean Ambrose to display his fighting spirit.  If you consider this PPV as "backlash" from the brand split, I guess you could say SmackDown Live definitely fired a shot to show they were just as competitive as Raw.
Well, thanks for reading 5,000 words about Backlash.  Hope you guys are more excited for Sunday now!