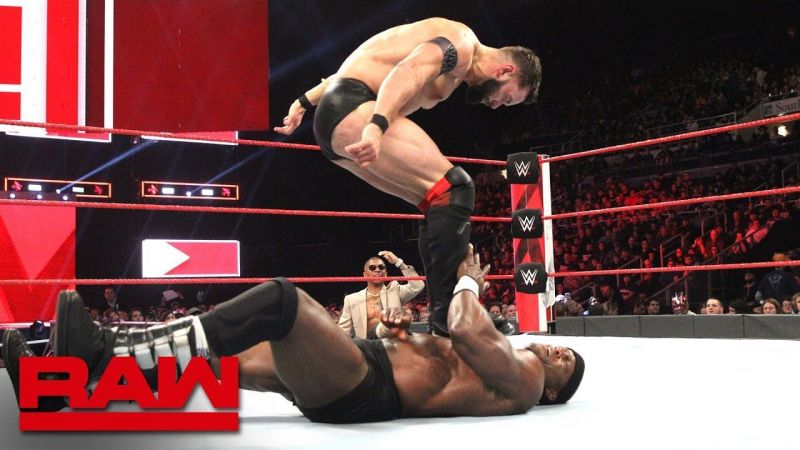 Last night, like every Monday night for the past 25+ years, WWE Raw, the longest running weekly episodic television show in all of television history, aired on the USA Network.
Episode 1,328 wasn't really set to be a special episode, but it is notable for three things:  1) It features fallout from Friday's kinda-sorta PPV Crown Jewel (which emanated live from the city of Crown Jewel); 2) It's the kick-off to the lead up for Survivor Series, which is only 13 days away; and 3) The show aired from London, England (which means it wasn't really live here in the States).  Despite these minor notable facts, it was just an average episode of Raw.
I saw a bit of news that poked fun of WWE.com's preview for the show, which stated "Finn Balor will once again battle Bobby Lashley tonight."  The insinuation is that even WWE.com is growing weary of all the rematches we're subjected to on Raw.
And that has been the narrative when it comes to WWE lately, hasn't it? As we head into Survivor Series 2018, we're even looking at a rematch of last year's Brock Lesnar/AJ Styles Survivor Series match.  It's bad enough that we see so many PPV rematches,  but WWE's TV programming – their flagship show Raw in particular – is viewed particularly as plagued with stale rematches in recent times.
With all of the development talent in NXT and NXT UK, the 205 Live guys, the roster split between Raw and Smackdown Live – how is it that any of these shows can be stale?  It seems like any week a new trade could happen, or new talent could be called up or crossover.  And that does happen, right?  Just last week, we saw 205 Live's Lucha House Party pull a surprise Monday night upset over Raw's Revival.
So I decided to test the narrative.  Just because it's popular opinion doesn't make it true, right?  Is Raw REALLY full of rematches or are we just so overwhelmed with content from WWE these days that we feel like we've seen everything before?
Let's look at the Raw card from last night:
The Riott Squad vs. Natalya, Sasha Banks & Bayley
Jinder Mahal vs. Apollo Crews
Raw Tag Team Titles Match: Seth Rollins & Dean Ambrose (c) vs. Authors Of Pain
Dolph Ziggler vs. Elias
Nia Jax vs. Ember Moon
Bobby Lashley vs. Finn Balor
Kurt Angle vs. Drew McIntye
So, how many of these matches have ever happened before? HA! THAT WOULD BE IMPOSSIBLE TO TELL!! IT WOULD TAKE FOREVER!!
Let's be more kind – how many of these matches have happened ON RAW IN 2018? That really narrows it down.  Besides, if Ziggler and Elias faced each on the Vengeance 2016 Kickoff show (they didn't, I made that up), that doesn't exactly make their Raw match last night stale, right?
Luckily, the Pro Fight Database keeps excellent records, so it didn't take me long to research this.  I searched each match to find out how many other matches on Raw in 2018 featured the participants battling in some way.  Here's what I found.
Surprisingly (if you buy the narrative), three of last night's matches were totally fresh.  Mahal/Crews and Ziggler/Elias had not happened at all on WWE Raw this year until last night.  Let me also say that both of those matches FELT FRESH! I was surprised by the result of both matches too, which saw up and comers defeating former world champions.
Last night also featured Kurt Angle's first Raw match in like 12 years, so clearly Angle vs anybody would've gotten a pass.  I'm not sure about their TNA history, but this was certainly the first time Angle and McIntyre had squared off in the WWE.
So three matches – totally fresh.  Three out of seven – that's good, right?
Next, you had the Raw Tag Titles match, which featured Seth Rollins (sans his partner Dean Ambrose) taking on Akam and Rezar – The Authors Of Pain.  This exact match has also not happened on Raw before, but the entire Shield did take on the Authors and Baron Corbin back in September.
Does that make this match stale?  I don't think so. In fact, I enjoyed the story this match told, where you thought Rollins might beat the odds only to succumb to the numbers and power of AoP.  Say what you want about how doofy Drake Maverick looks in his riot gear – the Authors have so far been the most impressive NXT tag team call-up Raw has seen.
So, four out of seven matches and only one of them kinda already happened 6 weeks ago.  That's not so bad, right?
Well, let's get to the other three.  First, let's look at Jax/Moon and Balor/Lashley.  Not only are both of those rematches, they're rematches from LAST WEEK.  In fact, Balor/Lashley has now happened on the last THREE episodes of Raw.  Huh??  Are they doing a Best of Seven???  Nia Jax and Ember Moon are in the same boat, as they also faced off on the 10/8 episode of Raw – that's less than a month ago!
Even if Balor and Lashley are feuding, it doesn't make sense to have them face each other week after week.  How do you blow that off?  I guess one just has to get injured to break the cycle.
So maybe there is some credence to this rematch problem after all.  Let's take a look at the last match, featuring the Riott Squad taking on Natalya, Sasha and Bayley in the opener.  Hmmm.  This seems familiar.  Wonder why?
Raw 10/29/18 – Riott Squad/Foxy/Mickie vs Natalya/Sasha/Bayley/Trish/Lita
Raw 10/22/18 – Ruby Riott vs Sasha Banks
Raw 10/15/18 – Ruby Riott vs Natalya
Raw 09/24/18 – Riott Squad vs Natalya/The Bellas
Raw 08/20/18 – Riott Squad vs Ember Moon/Sasha/Bayley
Raw 08/13/18 – Ruby Riott vs Sasha Banks
Raw 08/06/18 – Liv Morgan/Sarah Logan vs Sasha/Bayley
Raw 07/30/18 – Liv Morgan/Sarah Logan vs Sasha/Bayley
Raw 06/25/18 – Riott Squad vs Ember Moon/Sasha/Bayley
Raw 06/18/18 – Liv Morgan/Sarah Logan vs Sasha/Bayley
Raw 06/11/18 – Ruby Riott vs Bayley
Raw 06/04/18 – Riott Squad vs Sasha/Alexa Bliss/Ember Moon
Raw 05/28/18 – Gauntlet Match: Bayley vs Liv Morgan, Bayley vs Sarah Logan, Bayley vs Ruby Riott, Ruby Riott vs Dana Brooke, Ruby Riott vs Mickie James, Ruby Riott vs Sasha Banks
Raw 05/21/18 – Natalya vs Liv Morgan vs Sarah Logan vs Dana Brooke
Raw 05/14/18 – Riott Squad vs Natalya/Sasha/Ember Moon
Raw 05/07/18 – Ruby Riott vs Sasha Banks vs Ember Moon
Raw 04/30/18 – Ruby Riott vs Sasha Banks
Raw 04/23/18 – Riott Squad/Alexa/Mickie vs Natalya/Sasha/Bayley/Nia/Ember
The Riott Squad was drafted to Raw on 4/16/18 in the Superstar Shakeup.  In 19 of the last 29 episodes of Raw, they have had matches with Natalya, Sasha and/or Bayley.  That's not bad booking, that's psychotic!  Are people not noticing this???  Sasha Banks must feel like her life is an endless house show loop, doing the same match night after night for months.
The funny thing is that, if you asked me if The Riott Squad were feuding with anyone before yesterday, I'd probably think for a second and say no. This match is happening ENDLESSLY AND WE'RE NOT EVEN COGNIZANT!  This is some LAST BATTLE OF ATLANTA type stuff and these two teams don't even care that much about each other!
So, does Raw have a rematch problem? I think the answer is yes.  And I think the saddest part is that it's especially noticeable when we get a breath of fresh air here and there, like we did last night.
Has it always been this way? Can this be fixed?
I'm going to attempt to fix the future by looking at the past.  20 years in the past to be exact.
Some may say to look at WWE in one of its peak times is unfair, but some also say that WWE is bigger now than it's ever been.  Besides, shouldn't we compare ourselves to our finest moments to really judge where we are?
Here's the biggest difference between 1998 WWF and 2018 WWE – the roster.  One would argue that the roster now is gigantic, especially since they're supporting so much regular content. In 1998, WWE only had one first-run show – Monday Night Raw.  So all of their resources (aka talent) were focused on that program.
Turns out, the 2018 Raw roster and the 1998 WWF roster are fairly comparable from a numbers perspective.  Currently, Raw has around 51 active wrestlers competing.  That's not counting the cruiserweights, who don't technically appear on Monday nights.  This time 20 years ago, the WWF had around 57 active wrestlers competing.
One can also say that comparing Raw in 1998 vs Raw in 2018 is tricky, since the 2018 show is an hour longer.  Well, maybe.  But, as you'll see, the Raw we're comparing from 20 years ago actually had the same number of matches as last night's Raw, despite the runtime.
So let's hold WWF Monday Night Raw from November 2, 1998 up to the same standard.  First, the matches:
D-Generation X vs. The Brood
Road Warrior Hawk vs. Droz
The Oddities vs. Al Snow & Mankind
Goldust vs. Steve Regal
Intercontinental Title Match: Ken Shamrock (c) vs. The Rock
Val Venis vs. Jeff Jarrett
The Headbangers vs. D'Lo Brown & Mark Henry
So, how many of these matches had never happened on Raw in 1998 up to this point?  Two.  Goldust and Steve Regal was a fresh match as Regal had just debuted in October.  Val Venis and Double J was also a fresh one.
The Oddities had never faced off against the team of Al Snow and Mankind on that day in 1998, either.  However, there was a 10-Team Battle Royal in June that saw both Mankind and The Oddities competing.  So again, not a stale match.  That makes three.
Similar to the 2018 episode, the 1998 episode kicked off with a 6-man tag match.  This would feature DX and The Brood.  While this 6-man tag match hadn't happened prior in '98,  Brood-leader Gangrel did square off with DX's X-Pac on Raw back in August.  So again, another fresh match.
Two matches were 1998 callbacks.  LOD 2000 members Hawk and Droz squared off previously in the July Brawl For All Tournament.   Mark Henry and D'Lo Brown met The Headbangers on the 9/7/98 edition of Raw – 8 weeks prior to their rematch here.
That just leaves the big Intercontinental Title match between Ken Shamrock and The Rock.  I have to say, this is where things get a little bit dicey.  While Shamrock had never gone One on One with the Great One in 1998 before this match, their paths crossed on Raw several times before:
09/21/98 – Ken Shamrock vs. The Rock vs. Mankind
04/27/98 – Shamrock/Owen Hart vs. The Rock/D'Lo Brown
03/30/98 – Shamrock/Steve Blackman vs. The Rock/Faarooq
03/09/98 – Shamrock/Blackman vs. The Rock/Faarooq
02/09/98 – Shamrock/Chainz vs. The Rock/Faarooq
01/12/98 – Shamrock/Mark Henry vs. The Rock/D'Lo
While 6 matches against each other doesn't compare to the Riott Squad 19 matches from above, it's still interesting.  Seems like 1998 WWF had a booking policy of just finding new ways to tag guys who were feuding.   Then again, all but one of these confrontations was over 6 months before the episode.  So did this match feel stale?
I have to admit, I don't remember this episode of Raw.  But I'm sure the internet does.  I looked at three different classic reviews (including the one from rspwfaq), and while the match quality is debatable, each review mentions how hot the crowd was for The Rock.  None of the reviews mention the fact that Ken Shamrock and The Rock had gone head to head a lot that year.
So there you have it.  Are rematches a problem in 2018?  Yes, but they were still happening in that bygone era of 1998.  Maybe less of a problem, but they were still happening.  52 weeks a year, you're gonna get some of the same guys in the ring.
However, it seems 2018 WWE doesn't do near as good a job at covering their rematches with good booking.  Sure, face Ken Shamrock was looking for a partner and fighting The Rock and his heel Nation of Domination a lot in early 1998, but that didn't stop the crowd from popping for heel Shamrock vs. face Rock for the IC Title in November.
Why are Ruby Riott and Sasha Banks even fighting each other, anyway?